Blog, Seasonal Tips | February 12, 2018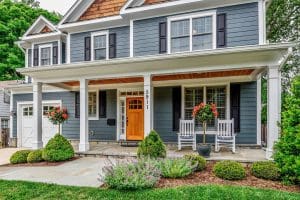 Let's be honest, who doesn't want the nicest looking home in the neighborhood? Whether you are planning to sell your home and looking to boost its curb appeal or are simply a homeowner who takes pride in the appearance of their home, here are 6 tips to help boost its curb appeal:
1) Plant some color – Pretty plants and colorful flowers are always inviting and appealing. If you are looking to save time and money, choose perennials that will bloom every season. Annual plants live for one season and then die, which means next season you'll have to dig them up and replace them.
2) Inspect your roof – Are you missing any shingles? Are there streaks? Be aware that missing shingles could eventually lead to roof leaks. If you are missing any shingles, this should be a priority on your curb appeal checklist. Gutterman Services offers residential roof repairs and power washing to help keep your roof looking its best.
3) Replace your address numbers – If your address numbers are fading or dirty, you should replace them. You'll be surprised by the impact of a fresh set of numbers. (and your mailman & delivery people will surely thank you as well)
4) Have your home power washed – Pressure-washing your dirty siding, deck, roof, sidewalk and driveway will make a significant change in the appearance of your home in an extremely cost-efficient way!
5) Paint the front door, trim & shutters – It's amazing what a difference a fresh coat of paint can make to your home. Truly an easy and affordable way to add some brightness and revive your house! Keep in mind that if your front door is letting in drafts, has cracks or breaks along the door's edges or is a hassle to close and lock, it's probably more beneficial to invest in a new front door. It's a worthy investment that will add to the value of your house, improve comfort, increase energy savings and ensure security. Of course, if we can help with your new door project, please don't hesitate to call us.
6) Replace your mailbox – Whether your mailbox is by the road or mounted on your house, a new mailbox always adds curb appeal. Helpful tip: When you install your mailbox, make sure that you are following the regulations that are set forth in the city that you live in.
We hope you found these tips helpful and inspirational.