Decks | September 4, 2020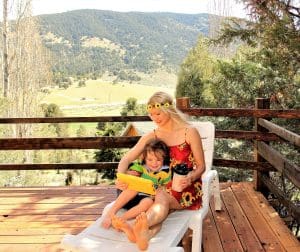 Who doesn't love a beautiful deck? Wooden decks are attractive and also a great space-adding feature for a home or professional building. When it comes to deck paint vs stain options, there are some important things to know about both before you head to your local supplier.
Here's a rundown of the pros and cons of painting versus staining.
Deck paint vs stain: The Pros and Cons of Both
When you can weigh the good and not-so-good of the two options for your wooden deck, you can likely pick the best option for your deck and your needs with regard to maintenance. Wooden decks do require maintenance to protect the wood from rot and deterioration, a big consideration in choosing paint over stain or vice versa.
Deck Painting
Here are some of the benefits of painting as opposed to staining:
Paint doesn't require frequent refinishing. A quality paint job can last for up to 10 years when it's done right.

Paint allows you more color options, as where stain is limited to shades of brown.

Because paint fills gaps and cracks, it hides the flaws of a weathered or old deck much better than stain does.

It's easier to clean a painted deck rather than a stained one.
The cons of painting include:
Paint just "lays" on the deck, instead of sealing the wood grain, which traps moisture in the wood. Anytime you use paint or cover your deck in a substance that isn't meant to seal wood from moisture, the end result will be paint that chips and peels, as well as rotting planks underneath.

Paint hides the natural beauty of the wood, as where stain shows the grain and details of the wood.

Once you paint your deck, deciding to eventually stain will require extreme measures (as in costing you time and money) to remove the old paint, refinish the wood and then have a deck that's prepped for staining.

Painting requires more supplies, therefore it's usually more expensive than staining. Wood preservative and primer are required in painting, as where you can buy the stain alone and do a great job on the deck.
Deck Staining
Deck staining's pros are as follows:
Stain enhances the natural beauty of the wood, especially the details of woods like cedar and redwood, which are naturally pleasing to the eye and are wasted under the opaque mask of paint.

Unlike paint, a high-quality stain that includes sealer will penetrate the wood grain and seal it, allowing moisture to escape. Stain won't chip or crack as the wood shrinks and swells with temperature changes through the year.

With staining, you can choose how light or how heavy to stain – depending on the number of coats you apply — and show off the characteristics of the wood.

Weatherproofing and UV ray protection are perks of staining. Paint doesn't provide this sort of protection from the elements.

Stain is less slippery than paint when wet.
The drawbacks of staining include:
Exposed decks requires re-staining every few years. Three to five years is the expected longevity of an oil-based semitransparent stain.

Staining doesn't hide the imperfections of an older or weathered deck, like paint does.

Some woods don't hold a stain well, like birch and maple. Tropical hardwoods are dense and don't hold stains well. In this case, avoid staining and instead apply a clear wood preservative every 3-4 years to protect from damaging sunlight. (FYI, oak, ash and chestnut stain just fine. Pine is better for light stains, only.)

You have to apply a good bit to reap the benefits of moisture control and UV protection. The lighter the stain, the less protection. Opt for a generous application of stain and higher opacity to protect the wood.
Here's a great guide on wood staining.

Source: Fix.com Blog
Preserving Your Deck: Let the Pros Help You
If the information above wasn't enough to convince you of whether to pick up buckets of paint or stain for your deck, call us at Gutterman Services for a professional opinion and honest advice.
Whether you just need to power wash and stain, sand and paint, or reinstall new wood boards, we can do it all for you in a professional and quality manner. Gutterman Services has more than 30 years experience giving customers honest advice for maintaining their homes and decks. We're fully licensed, insured and bonded, so you can breathe easy knowing that your deck maintenance or restoration is in the best hands.
Learn about our deck maintenance and restoration services here, as well as a deck coating that offers a 10-year warranty.