Storm Damage, Weather Related News | July 7, 2021
The weather in the Metro DC area is mild compared to other states, however the area still experiences storms that can adversely impact home and property.
If you have lived in the area for a while, then you surely remember the derecho in 2012 (did we even know what a derecho was until then?) that ravaged our area. The winds produced by that derecho were destructive and deadly.
Windstorms are an interesting phenomenon. In some cases, they can be predicated, in other cases they move in quickly, fiercely and without much warning. Here are some tips on how to stay safe in your home during a windstorm.
6 Ways To Stay Safe In Your Metro DC Home During A Windstorm
Tip 1: Be sure to get your pets and kids inside during a strong winds event. If time allows, be sure to secure lawn furniture, trash cans and other outdoor accessories to avoid them blowing away or causing damage to your house or property.
Tip 2: Keep your windows locked and doors double bolted.
Tip 3: Stay away from any windows or glass doors to protect yourself from flying debris.
Tip 4: Be ready for power outages with electronic lamps, flashlights and a weather radio with new batteries on standby. If the power goes out, you may not have access to the internet!
Tip 5: Avoid using candles to light a room as this can increase the risk of fire.
Tip 6: If you do lose power, turn off most of your light switches. You will also want to unplug your appliances and electronics, including:

• Televisions
• Computers & printers
• Video game systems
• Microwaves
Keep Safety In Mind After A Windstorm Has Cleared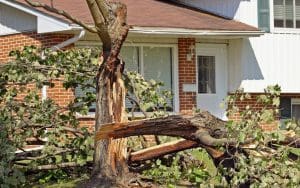 Before leaving your home, listen to your local weather channel to confirm that it's safe to leave your home. Once it's confirmed that your area is clear of high winds, keep the following in mind:
• Avoid leaving your property unless necessary – Debris, fallen trees, blocked roads and downed power lines could still pose a hazard.
• Assess your property – In the event that there is damage, be sure to document and take photos of your property after the storm and catalog any damage including:
1) the structure of your home
2) possessions (e.g., your car or patio furniture)
3) landscaping
Click Here To Download Your Checklist On How To Stay Safe During A Windstorm
Need Help With Property Assessment and/or Restoration?
If you are uncomfortable or unable to complete the assessment, Gutterman Services team stands ready during these events to help property owners with a post-storm event assessment.
In case of property damage, the team at Gutterman Services understands that dealing with insurance can be no fun especially during an emergency. We are very familiar with many home insurers and their processes and can help you determine whether your damage is likely to be covered. We can also assist with filing paperwork!