Roofing - Helpful Tips | June 1, 2020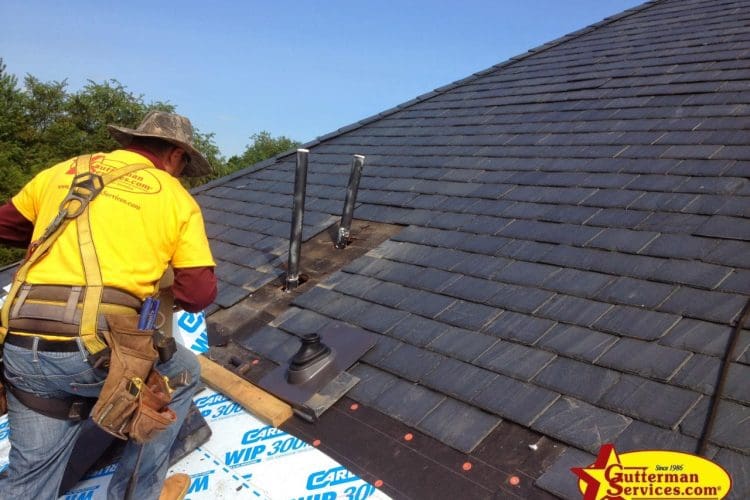 Roof replacement and repair services are expensive so it's important to find an experienced, reputable and trustworthy roofing contractor to assure the work is done properly. However, you are probably overwhelmed with results during your search so we want to share with you some unique advantages of hiring a local roofing contractor.
7 Benefits Of Using A Local Roofing Contractor
1) Knowledge Of Local Building Codes – Local building codes vary from state to state so it's essential to hire a roofing contractor who knows how to operate safely and according to state rules. If local requirements aren't met, then you could end up with delays or have to pay out extra money.
2) Personalized Service – When working with a door to door sales person or nationwide roofing company you usually don't have a specific point of contact and sometimes your work is even done by an outsourced crew. You rarely have to worry about that when choosing a local roofing contractor (and never with Gutterman Services, we love our hard working employees!)
3) Accessibility – A local roofing contractor can easily be reached for follow-ups, roof inspections or additional work all year long. Also, in the event that your roof is damaged due to a storm, a local roofing contractor can usually be on site within a few hours to assess the damage and even get started on repairs.
4) Accountability – Most roofing companies offer a workmanship warranty of 2 – 10 years but what happens if the out-of-state company you hired to replace your roof is no longer in town? By using a local roofing contractor, with ties to the community, you ensure that if there are any warranty issues years from now, they will be there to back up their warranty.
5) Experienced – Most local roofing contractors have years of experience behind them. Their employees and contractors are usually close knit, trained well, experienced and have worked for the company for many years.
Irresistible opportunity to highlight an employee: Gutterman Service's longest working employee is Jaime Nevarez. He started as a gutter cleaner, moved to an installer and is now our roofing contractor foreman. We celebrated his 20th year of employment with us in the summer of 2019.
6) Familiar With Metro DC's Seasonality – Climate and weather are major considerations when trying to choose your roofing material. A local roofing contractor (like Gutterman Services) can guide you throughout the research and planning process so that you can end up with a roof that will withstand the variety of weather Mother Nature brings to the Metro DC area.
7) They Love Their Community, Just Like You – There's a reason people buy local products: they want to support the community that they live in. So, yhy not use local companies as well? Most local companies sponsor a sports team, school and/or fundraiser in their local area.
Throughout the years Gutterman Services has participated in the Dulles Plane Pull, Herndon Police Department's annual Holiday "Cops for Kids" fundraiser, donated to the Loudon County Fire Department and offered a "Free Roof Giveaway" for NoVa homeowners.
Gutterman Services is a local roofing contractor and also family owned & operated. We have been serving the Metro DC area for over 30 years. We would love to assist you with your roof replacement or repair. At Gutterman Services, we can maintain, repair, and replace just about any residential roof. Click here to learn more about our roofing options.