Decks | August 19, 2020

Due to COVID-19 families are spending more time at home than ever before so now is the perfect time to give your deck some TLC. Your deck can serve as a kids play center, arts and crafts area, reading nook, meditation zone, a place to enjoy outdoor meals as a family, the list could go on and on!
To keep your deck looking and functioning its best, it needs cleaning and maintenance at least once a year. In fact, with annual routine maintenance, a deck will easily last for twice as long!
Should I Hire A Professional Or Complete My Deck Restoration On My Own?
If your deck is structurally sound but the surfaces are dull, weathered or dirty, then a pressure-washing and refinishing treatment can transform your deck's look. You can definitely complete this process on your own but we'll be honest, deck restoration is no easy feat. In fact, Home Depot labels the DIY yourself project as "Intermediate" and recommends several days be dedicated to completing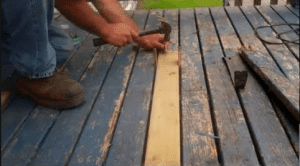 the project. There's also a variety of supplies needed to complete the task, including multiple hoses, scrub brushes, a pressure washer (you can rent one for about $80 a day), wood, nails, plus wood & deck stain.
On the other hand, if your deck has more than cosmetic wear, for instance, wobbly stairs, softwood or separating planks, there's a possibility that your deck has become structurally unsound and possibly a danger to you and your loved ones. To fully assess the structural integrity of your deck, we recommend you hire a professional, like Gutterman Services.
Check Your Deck For These 6 Repair Issues
If your deck is dull and dirty or actually dangerous to walk on, Gutterman Services can assist you with your deck restoration. Whether you need to restore a weathered deck with power wash and stain, sand and paint, or reinstall new wood boards, we can do it all for you in a professional and quality manner. Our Deck Restoration service costs 75% less than replacing your deck.
We Have 3 Deck Restoration Options To Choose From
During The Deck Restoration Process We Will:
Remove all loose paint and sand the deck

Scrub the deck for any dirt, stains or debris

Power wash the deck

Apply the finish of your choice
Learn What Makes Our Deck Restoration Process Unique
Our expert carpenters and power washers will work together to make your deck look new again. The process will end by applying an elastomeric coating, designed to protect, resurface and waterproof old, damaged wood.
Unlike what most of our competitors use, this unique formula provides long-lasting protection against moisture and the damaging effects of the sun. It is designed to expand and contract, while offering excellent scuff resistance for heavy duty foot traffic areas.
Elastomeric coating will lock down splinters and bridge unstable cracks on old damaged wood surfaces.

Between the time and material costs, there are many other "honey-do" chores you could get completed. Rely on Gutterman Services for your deck restoration.