Gutters, KGuard | August 5, 2020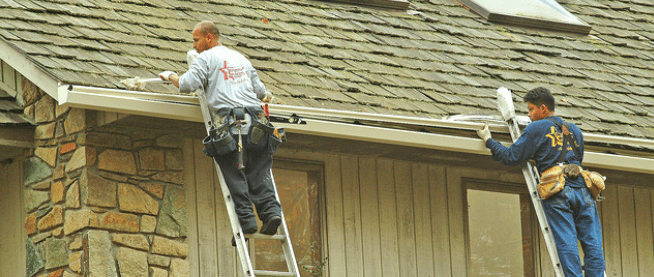 Most DMV homeowners will agree there's a certain "love/hate" relationship when it comes to autumn and the leaves that it brings. While we love watching the leaves change colors between summer and fall, we also hate seeing (and then cleaning) those same leaves piled up in our gutters. Before summer turns into fall you may be wondering about leaf gutter guards and asking yourself two questions in particular.
Q1: How much do leaf gutter guards cost (and are they worth it)?
Before tackling the price question, let's talk about the benefits of gutter guards and why they are in fact worth it. To do that, consider the four statements listed below. If you agree with one, two or all of them, then keep reading because gutter guards are definitely for you.
1) My home is surrounded by trees and is always exposed to leaves and other debris.
2) I don't have time and don't want to deal with the hassle of constantly cleaning my gutters.
3) I want to prevent damage caused by clogged gutters (e.g., mold/mildew growth, insects/pest infestation, heaving driveway, foundation issues).
4) I want to spend less money on gutter cleaning services throughout the year.
Q2: What do I need to consider when calculating total cost of gutter guards for my home?
Now, let's talk about how much it will cost you to install gutter guards for your home. According to Roofing Calculator and Angie's List, the price can range from $7.50 to $10 per linear foot (when you opt for professional installation). Since the average home has about 200 feet of gutters, you can expect to pay anywhere between $1,500 and $2,000+. Beyond the size of your home/gutters, there's a few other factors that play into the actual price you'll pay, which we'll unpack next.
1) How will you install your gutter guards?
Of course, there's always the DIY option, that is buying the materials (ranging from $0.30 to $6.50 per linear foot) and installing the gutter guards yourself. While this approach can cut your initial costs, it's not something we recommend unless you're a pro. In addition to the added price of potential injury and property damage, without the proper level of expertise and knowledge, you risk selecting gutter guards that are ineffective and/or installing them incorrectly.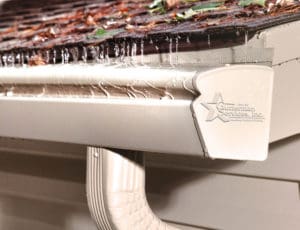 You can also hire a professional company/contractor and request they install gutter guards you've purchased (which can cost between $1.90 to $4.00 per linear foot). This option may take more time (with the hours/days you'll spend researching and buying materials) as well as researching companies that offer installing gutter guards purchased by the customer. Plus, there's an added risk of hiring a "jack of all trades" handyman who will offer to install whatever you provide without offering honest recommendations.
The third option does come with the highest price tag but is your best bet – if you're looking for the most durable, safe, and effective choice. By hiring a full-service gutter guard installation company, you'll likely get access to the highest quality gutter guard materials and brands at a much lower price than you can find on your own. There's also the obvious benefit of experienced and insured teams overseeing your installation. Plus, most providers offer long term warranties, meaning they'll cover the cost of any repair or replacements should you need them.
2) Which type of gutter guards will you choose?
There are a number of gutter guard brands and materials, which range in price, as well as how long they will last and how effective they will be. Below you'll find the 6 most common types of gutter guard materials, how much they cost, their durability, and a list of pros and cons (via FIXR and Roofing Calculator).
Why we recommend K-Guard Leaf Guard Gutters?
If you're interested in the least amount on hassle when it comes to gutter maintenance, then leaf guard gutters by KGuard are for you! They are a covered gutter system that prevents leaves and other debris from getting into the gutters, but still allows water to flow freely through them. Listed below are the top three reasons you should consider K-Guard. For even more information, be sure to watch the video right below this list.
They require the lowest maintenance for your gutters
They're made of pre-finished aluminum, so they won't rust
They won't sag or pull away from your house

Click here to check out our KGuard gutter services page to find out more about how KGuard blows the competition (including surface tension/helmet guards) out of the water.
Why Choose Gutterman Services for Your KGuard Gutter Installation Project?
We know there's a lot of gutter guard installation providers in the DMV area for you to choose from. Here's why you'll get the best possible results for your money (while also keeping your family and property safe) by going with Gutterman Services!
* We offer a lifetime workmanship warranty and a no-clog guarantee
* We customize your KGuard gutters so they're tailored to fit your home
* We've installed 4 million+ feet of KGuard gutters and are their exclusive DMV distributor
* We have 30+ years of expertise and countless happy customers – see our reviews
* We always give honest, straightforward advice
Ready to get started on taking the "hate" out of your relationship with summer turning into fall? Click here to get your free estimate for KGuard gutter installation within the next 24 hours!