Residential Wood/Cedar Roofing - Helpful Tips, Roof Repair - Helpful Tips | September 25, 2022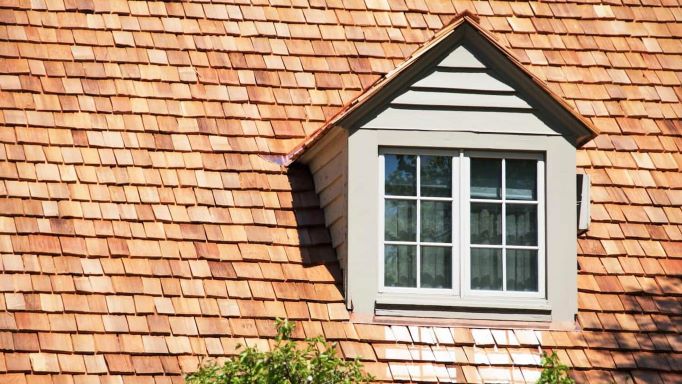 Cedar Shake Roof in Sterling, VA
Are you ready for a new roof? Are you looking to upgrade to something different than the standard asphalt roof? If so, a cedar shake roof is a great option to consider.
Cedar shake roofing is one of the most traditional roofing materials available, and it's ideal for giving a new home an ancient, historic aspect. Despite being constructed of wood, cedar shakes provide great moisture protection, natural insulation, and long-term storm resistance.
But before committing to a new roofing material for your Sterling, VA home, we understand you want to know how long a cedar shake roof lasts.
Continue reading to learn how long a cedar shake roof will actually last and what factors into the lifespan.
How Long a Cedar Shake Roof Lasts in Sterling, VA
Hand-split cedar shakes are more labor intensive than other methods of roofing installation, but they make up for it by having a lifespan of 30 – 40 years, or more.
There are other advantages to cedar shake roofing as well, including:
Noise reduction and natural heat
Stains and textures can be customized in a variety of ways
Properties that are antibacterial and antifungal
Insect and UV radiation resistant
Weather resistant in the face of storms, high winds, hail, and other adversities
4 Factors That Affect the Life of Your Cedar Shake Roof
Now that you know the benefits of a cedar shake roof and how long your new cedar shake roof will actually last, you need to know what affects the lifespan.
1. The grade of your cedar shake shingles
There are 3 grades of cedar shake shingles:
Common – Most affordable. They're randomly cut and made out of any part of the tree (basically the leftovers of other cuts). These cedar shake shingles will be the first ones to split and warp.
100% Straight Grain – Each one of these is hand-selected and straight grained. When the grain is straight, the shingles lay flat, and you don't have to worry about them curling up.
Selects – These shingles will be a mix of the 2 other types of grades, somewhere around 80% straight grain and 20% commons.
2. Climate and weather 
Damage from moisture or high heat won't have an immediate effect, but you won't get the most out of your investment. If you want a cedar shake roof, the climate in your area should be a mix of lower amount of precipitation and not too high of heat.
Another thing that affects the life of your cedar shake roof is weather. Every roof goes through wear and tear from the weather throughout its life. The amount of rain and extreme weather your area gets will determine how fast the wear and tear affects your cedar shake roof.
3. Hiring a high-quality roofing contractor to install your cedar shake roof 
Hiring a local reputable roofing contractor is crucial to your roof investment. If they don't use correct roofing techniques, your new roof's life will shorten, and you'll need a roof replacement well before it's time.
To help you find a reputable roofing contractor, read our 22 questions to ask a roofer blog.
4. Getting regular roof maintenance on your cedar shake roof 
Regular roof maintenance ensures you get the most life out of your cedar shake roof. It will catch any problems with your wooden shingles and prevent future leaks before they can cause damage to your home.
It's also a chance to clear your roof and gutters of any debris. Wet debris sitting on your cedar shake roof will shorten the lifespan of your cedar shingles. Because of this, it's absolutely crucial to keep your roof running smoothly throughout its life with roof maintenance.


A cedar shake roof will bring natural beauty and instant appeal to your Sterling, VA home.
Call us at 571-297-1445 or Click here to schedule a free estimate.